🤔 What is ToCToU?
In software development, time-of-check to time-of-use (TOCTOU, TOCTTOU or TOC/TOU) is a class of software bugs caused by a race condition involving the checking of the state of a part of a system (such as a security credential) and the use of the results of that check.
To explain a little bit, A service checks the data received from the user for check problems using the function B, and registers data as a function called C. In this process, there may be a small/or large time difference between B and C, but if you can change the data received from the user within that time difference, that the input value of B check logic and the input value of C registration function can be different. Then, the B function applied for security is bypassed, which can lead to other vulnerabilities.
In normal cases, inspection functions such as B and processing logic/business logic such as C are in close proximity, with little time difference, but specifications such as logic, policy, or code often widen the gap between B and C. If the attacker recognized this gap, it would be a way to disable the inspection function, as I said above.
ToCToU는 Time Of Check to Time Of Use의 시간차를 이용한 공격이며 보통 Race condition attack에서 많이 나오던 개념입니다. (예전에 toctou 관련 글을 쓰긴 헀었네요. 다만 별 내용은 없는..ㅋㅋ)
약간 설명하자면, A서비스는 사용자로부터 받은 데이터를 B라는 함수로 문제가 있는지 검사하고, C라는 함수로 등록한다고 칩시다. 이 과정에서 B와 C사이에는 시간차가 적을수도 많을수도 있는데요, 그 시간차이 내에 사용자로 부터 받은 데이터를 변경할 수 있다면 B 검사 로직의 input과 C 등록 함수의 input을 다르게 줄 수 있다는 이야기가 됩니다. 그러면 보안성을 위해 적용한 B 함수가 무력화 되기 때문에 다른 취약점으로 연결될 수 있는 포인트가 되지요.
보통의 경우 B와 같은 검사 함수와 C와 같은 처리로직/비즈니스 로직은 가까운 위치에 있어 시간 차이가 거의 나지 않지만 로직,정책,코드 등의 특이사항으로 B와 C사이의 간격이 벌어지는 경우가 있습니다. 이 틈새를 공격자가 인지했다면 위에서 이야기드린대로 검사 함수를 무력화할 수 있는 방법이 됩니다.
⚡️ Bypassing protection for SSRF/OOB/XXE, etc..
ToCToU is commonly known as a system hacking technique, but the principle itself is sufficiently used for web hacking. I'll explain it briefly with a few examples.
보통 ToCToU는 시스템 해킹 기법으로 많이 알려져 있지만, 원리 자체는 충분히 웹 해킹에도 이용될 수 있습니다. 몇가지 예시를 통해 가볍게 설명해볼게요.
The condition I talked about above is whether it is possible to change user input when there is a time difference. One of the things that can satisfy this condition is the DNS Record. DNS records can be changed at any time by the domain owner, and although it depends on the circumstances, they can usually be changed for DNS information such as A Record and CNAME within 30 minutes. Which means that if there is some difference between verification of URLs/Domain and running intervals, modifying DNS records will allow malicious behavior.
제가 위에서 이야기드린 조건은 시간 차이가 있을 때 사용자 입력을 변경이 가능한지 여부입니다. 이 조건을 충족할 수 있는 것 중 하나가 DNS Record입니다. DNS Record는 도메인 소유자가 언제든지 변경할 수 있으며, 상황에 따라 다르겠지만 보통 30분 이내로 A Record, CNAME 등 DNS 정보에 대해 변경이 가능합니다. 그 말은 곧 URL/Domain에 대한 검증과 실행하는 구간의 차이가 어느정도 벌어지는 경우 DNS Record 수정을 통해 악의적인 행위가 가능하다는 것입니다.
For one example, A service has the ability to directly access the URL received from the user and show the results. Security protection logic is all followed redirects and then blocks access if they are private IP bands of final domain of IP.
If the time difference that reflects the DNS Record correction is shorter than the time difference between the logic being inspected and the functionality being accessed, you can bypass the final destination IP of the examination logic and web request processing logic.
한가지 예를들어보면, A서비스는 사용자로 부터 받은 URL을 직접 접근해서 결과를 보여주는 기능을 가졌다고 칩시다. 이 때 URL에 대한 검증은 내부 서비스를 참조할 수 없도록 최종 목적지의 IP가 사설대역 인지 체크한다고 하면, 보통 잘 알려진 검증 방법으로 봅니다. (네트워크 구성단 차단이 아니라면 모든 redirect 등의 처리 후 최종 목적지의 IP 검증이 가장 명확한 검증 방법이죠)
이 때 검사하는 로직과 웹 접근하는 기능의 시간차보다 DNS Record 수정이 반영되는 시간 차이가 짧아지는 경우 검사 로직과 웹 요청 처리 로직의 최종 목적지 IP를 우회할 수 있습니다.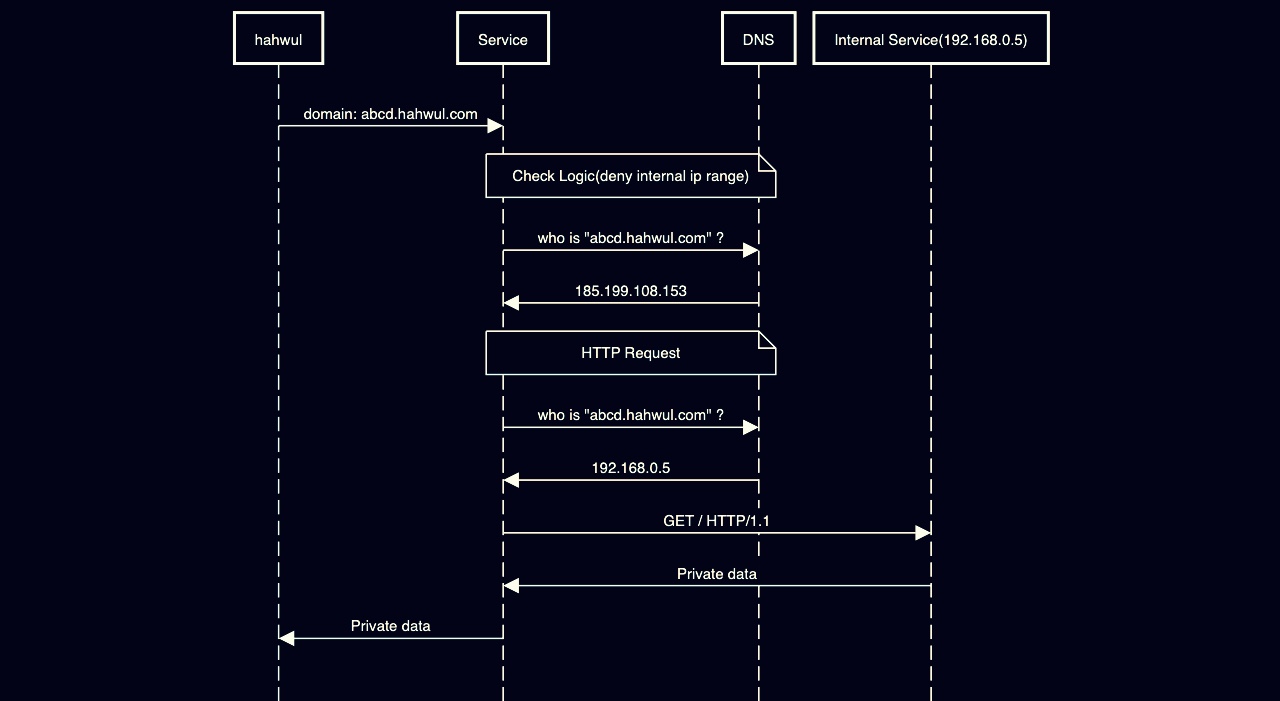 ## for https://sequencediagram.org
participant hahwul
participant Service
participant DNS
participant Internal Service(192.168.0.5)
hahwul->Service:domain: abcd.hahwul.com
note over Service,DNS:Check Logic(deny internal ip range)
Service->DNS:who is "abcd.hahwul.com" ?
Service<-DNS:185.199.108.153
note over Service,DNS:HTTP Request
Service->DNS:who is "abcd.hahwul.com" ?
Service<-DNS:192.168.0.5
Service->Internal Service(192.168.0.5):GET / HTTP/1.1
Service<-Internal Service(192.168.0.5):Private data
hahwul<-Service:Private data

🔖 Hackerone reports
📌 References